Hello crafty friends,
Martha Lucia
here to share with you an August Club Q Inspiration.
This is a layout that I created using one of the kits of the month. I love this kit because it includes everything that I need to create, the project model or a project that I want. This time I followed my intuition and I created a fun page using a flip flops as inspiration. Take a look at my page: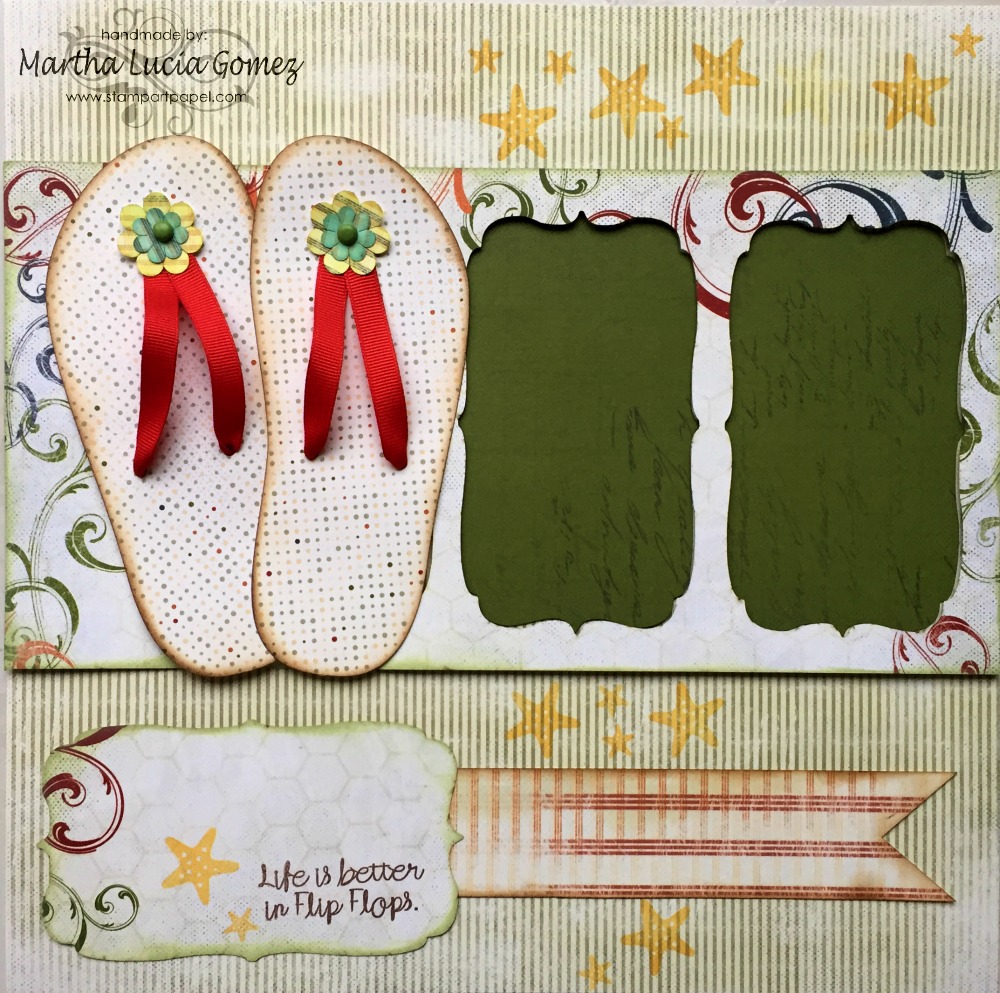 I love everything that this Kit has in it, but these flip flops are simply amazing. These are a laser cut that I took off of the page and inked the borders with Milk Chocolate PowderPuff Chalk Ink.
Then I tied the grossgrain Red Ribbon and decorated with the flowers, that are also included on the kit. I changed the color of the flowers just inked with Lemon Sorbet PowderPuff Chalk Ink and Aqua PowderPuff Chalk Ink and tied to the flip flops with a green metal brad from the kit.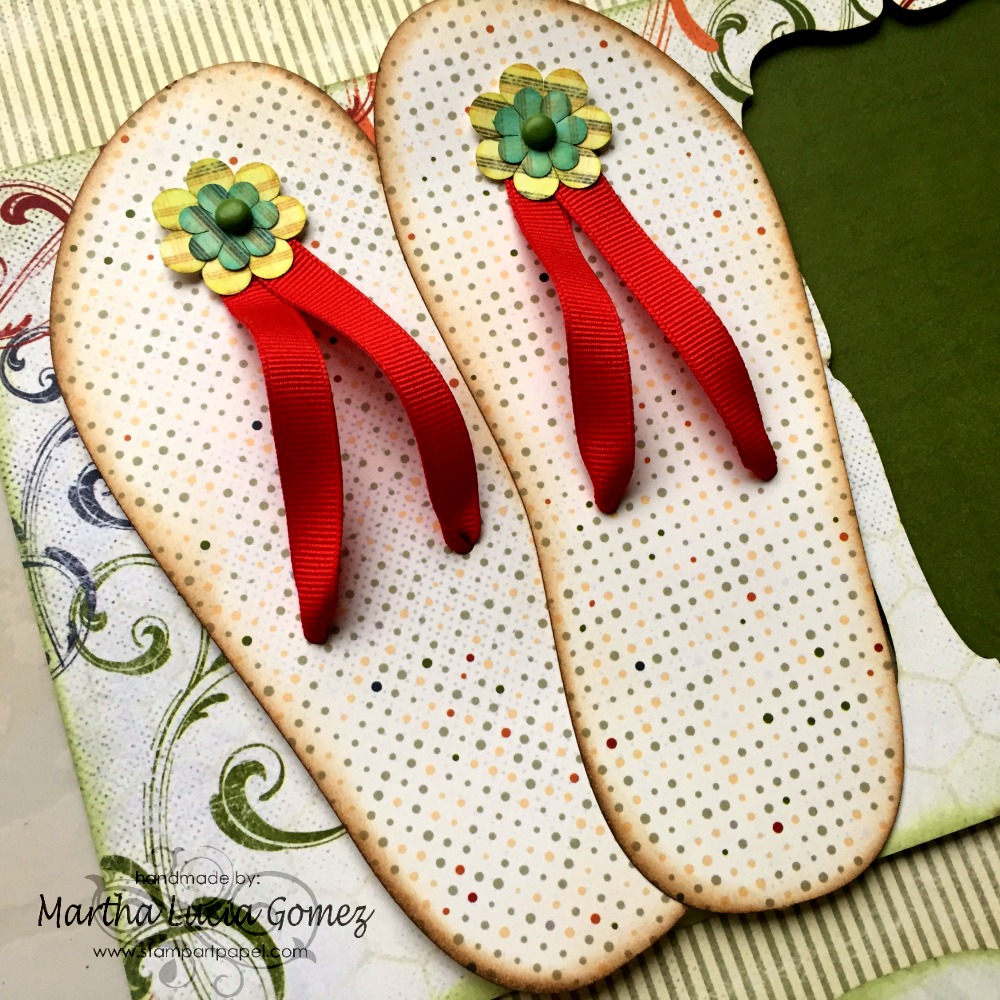 I love when my cards or projects have dimension or different levels and for this I used a lot of dimensions or zapdots and this project is not a exception. I pasted the base of the laser cut with the green labels to the base page bit a "few" dimensionals, then I pasted the green tags inside of the spaces directly over the base.
I left the right side open to introduce the photos or quotes. And finally I pasted the flip flops, of course with more dimensionals or zapdots.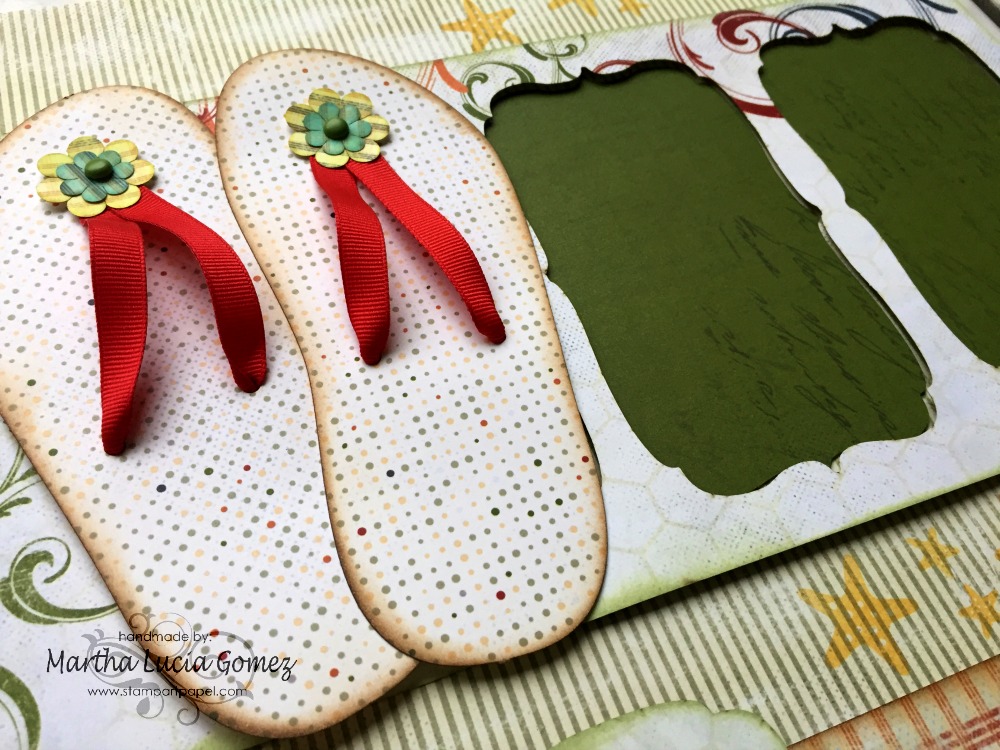 To complete the decoration of the page I randomly stamped some sea stars from the stamp set Seas the Day by Joy Clair using Desert Sun PowderPuff Chalk Ink.
I took another tag and used the light side, I inked the borders of this using Light Moss PowderPuff Chalk Ink and pasted over a large banner included on the kit with other other pattern.
I inked the borders of this banner with Milk Chocolate PowderPuff Chalk Ink. Over the tag I stamped a sentiment using Mahogany PowderPuff Chalk Ink and other sea stars with Desert Sun PowderPuff Chalk Ink.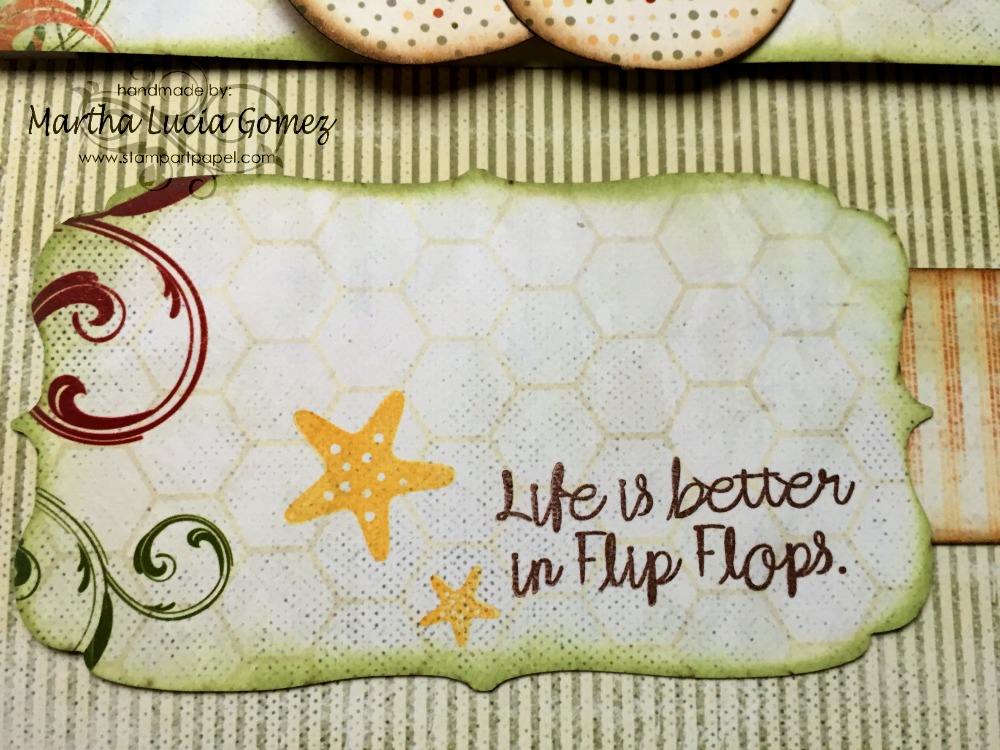 Quick Quotes Products Used:
Other Products Used:
Dimensionals or Zapdots

Snail Adhesive

"Seas the Day" stamps by Joy Clair
Thank you for stopping by. See you soon!
Martha Lucia
Pin It Now!